**EDIT**
Complete army done!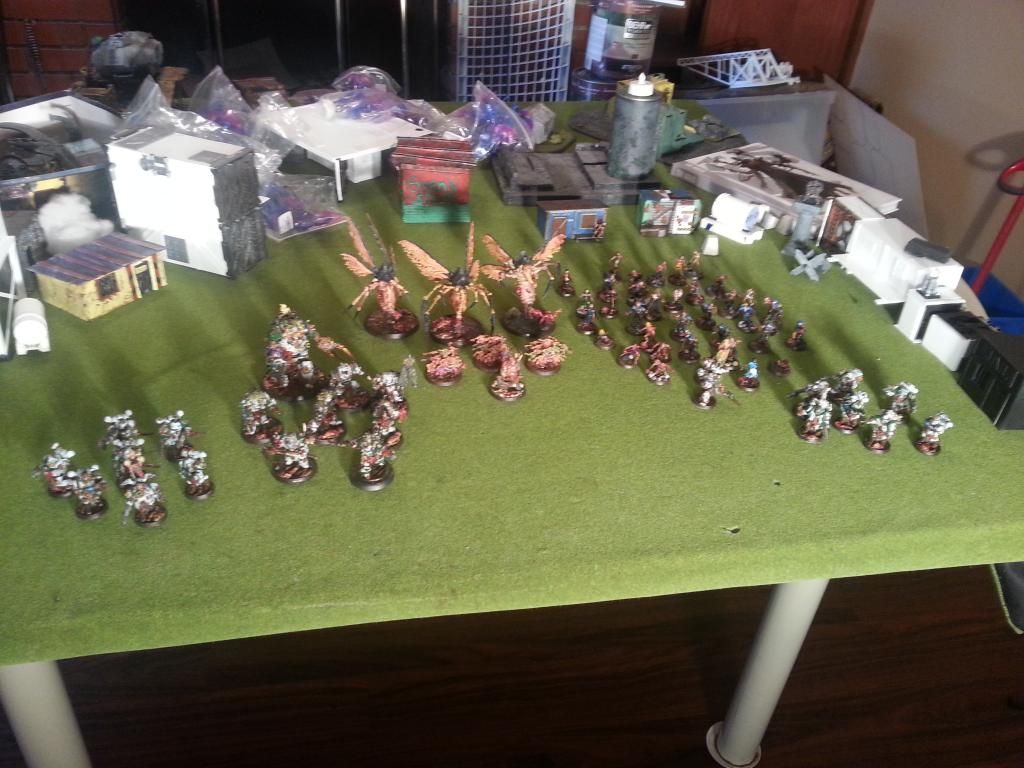 Rest of pictures throughout! Thanks IC!
Found out about this on FB and thought it was a really, really good way to get things done for once! Having a large supply of Nurgle and Death Guard kicking around I figured I would use that! I also got inspired to write some fluff to go with this army build because..hey why not!
Army list for 1000 points:
HQ: Typhus (1, 230 pts)
Elite: Chaos Contemptor Dreadnought (IA) (1, 275 pts)
Elite: Chaos Terminators (6, 324 pts)
Troops: Plague Zombies (35, 150 pts)
Total: 979
Additions to army list for 2000 points (using Daemon Allies as well):
HQ: Sorcerer (1, 160 pts)
Troops: Plague Marines (7, 225 pts)
Troops: Plague Marines (7, 225 pts)
HQ: Herald of Nurgle (1, 150 pts)
Troops: Nurglings (3, 45 pts)
Fast Attack: Plague Drones (3, 211 pts
Total: 2000
This list is mostly for fun, and gives me the excuse to get some awesome FW models that I have been waiting to get my hands on (mainly the Greater Daemon!). Since I had started Nurgle/Death Guard before I had a fair amount of stuff in various states of doneness, so I still have a bit of sorting to do.
Status of army:
Typhus (FW Typon model): Done!
Sorcerer (FW Sorcerer model): Done!
Zombies (3rd party models): Done!
Plague Marines Squad 1 (3rd party, FW and GW models): Done!
Plague Marines Squad 2 (3rd party, FW and GW models): Done!
Terminators (FW Grave Wardens/Death Shroud and FW upgrade kit): Done
Dreadnought (FW Death Guard Contemptor and other FW bits): Done!
Herald of Nurgle: Done!
Nurglings: Done!
Plague Drones: Done!
Now for some fluff, which I hope to accompany each major update with to weave a narrative with this army and the fall Hydra Minoris. The first planet to fall victim to Typhus' Zombie Plague.
----------------
++++++++++TRANSMISSION INTERCEPTED+++++++++++
++++SOURCE::WRECKAGE OF DOCKING STATION LIMA.J44FS IN DECAYING ORBIT OF HYDRA MINORIS ++++
+++++UPLOADING MESSAGE CONTENTS+++++
++!WARNING! CLEARANCE NEEDED: INQUISITORIAL AUTHORIZATION REQUIRED++
…….ENTER PASSPHRASE
[][] [][][][][][] [][][][] [][][][]
+++AUTHORIZATION GRANTED+++
UNSPOOLING DATA…
BEGIN PLAYBACK: AUTHOR: HANOK EBNER || DESIGNATION: INDIGO PORT OVERSEER, T53 544 0F0
9 566 757.M41
DOCKING STATION LIMA.J44FS IN HIGH ORBIT ABOVE HYDRA MINORIS
I had to send Jang to the medicae to see Dhimitri again for the third time this rotation. He was lucky enough to get a leave break and he comes back sick? No fuggin' use to me when all he does is cough his bloody lungs out on shift. If he isn't better soon I will have to find a replacement. I told him not to go to the Yugon slum markets, yet what does he do? Brings back some ugly lookin' statue with weird connected rings on it. "Long Life" totem my arse.
9 569 757.M41
Quite the scene in the mess tonight. Jang ends up spilling his guts out all over the table after dinner! Whatever Dhimitri has been giving him has obviously done nothing. I saw some weird green scabs on his arms while his mates were carrying him outta there. Looked like a couple of Rogan's boys caught the same thing as Jang. They just kept coughing all night long.
9 575 757.M41
Finally got Jang outta my crew due to Dhimitri agreeing to keep him on bed rest. His problem now. Whatever that bastard brought back with him has been spreading around the station. Been usin' my emergency respirator as much as possible just in case.
9 580 757.M41
I don't know what in His name Jang was up to today. One my guys saw somebody standing around in a medicae patients robe in Junction I-6. I went to check it out and was frozen stiff in shock at the site of him. Most of his hair had fallen out other than a couple grungy clumps and his skin... it looked like a fresh corspe. I tried to talk to him but he just stared right through me. When I finally got closer he was just mumbling about being hungry. I offered him my last biscuits i snagged from the mess but he didn't even look at it. I got a couple of the lads to take him back to the medicae. When they got back they said the place was jam packed with patients who were obviously infected with this damn bug. I wonder if anyone has contacted the Astra Medicus on Hydra yet?
------
My picture taking can suck, so I apologize. I hope to improve that as this goes on.
The start of the build!
And once they are all together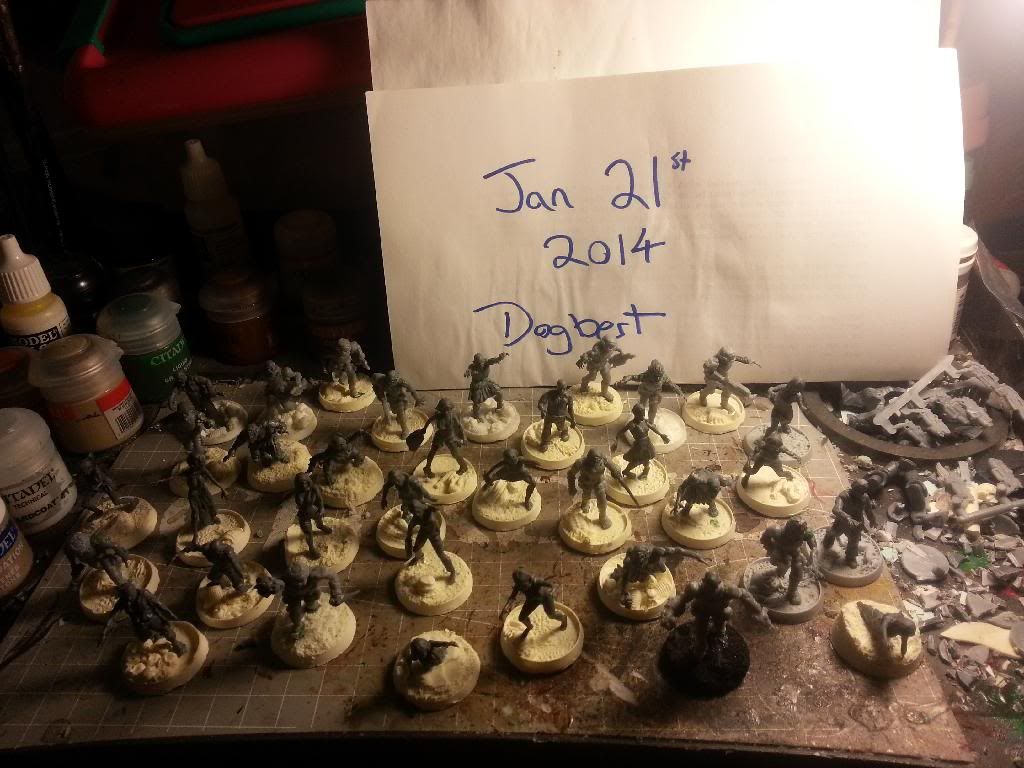 And the first 3 test models nearly done!