Posts: 207
Joined: Mon Jan 05, 2015 7:25 am
Got my Objectives done this month as well!
---
---
Posts: 223
Joined: Wed Feb 04, 2015 4:59 pm
Location: Salt Lake City
Finally done them!
---
Posts: 88
Joined: Mon Dec 31, 2012 7:29 pm
I'm really pleased with how the objectives turned out. Each has its number on the base, plus each has a number of highlighted parts to match the marker's number(like the six highlighted tentacles on 6). Also, the objectives' designs are mirrored- 1 and 6 are cracked-open domes, 2 and 5 are burning arches, and 3 and 4 are portals.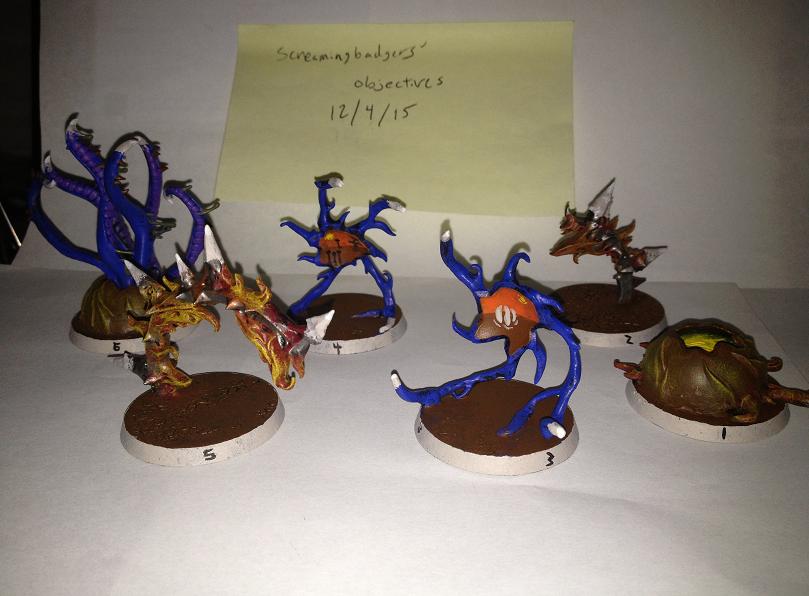 ---
Posts: 223
Joined: Sun Jun 05, 2011 3:42 pm
Location: Upstate New York
Here are the Objective Markers for the Ultramarines Fifth Company. I used roman numerals to number them in keeping with the Ultramarines theme. I was going to try experimenting with water slide transfer numbers, but ran out of time. I forgot these had to be in by the sixth (today) so I had to finish in a rush. Objective Marker VI can be separated and one of the ammo boxes can be used for
The Relic
missions as seen in the second photograph.
The Elder Party
Cthulhu/Nyrlathotep in '20
Why Settle For A Lesser Evil?
---