I made it! Just!
Salamanders Contemptor Dreadnought
Salamanders Fire Drakes
---
Posts: 88
Joined: Mon Dec 31, 2012 7:29 pm
---
February commitment done! - Just
Sorry about rubbish pics, I was rushing!
---
---
Posts: 18
Joined: Mon Jul 21, 2014 9:23 am
---
Posts: 99
Joined: Fri Jul 06, 2012 12:16 pm
Finished my Chimera... Right on time!
---
Posts: 36
Joined: Wed Mar 12, 2014 10:54 am
Location: Maine USA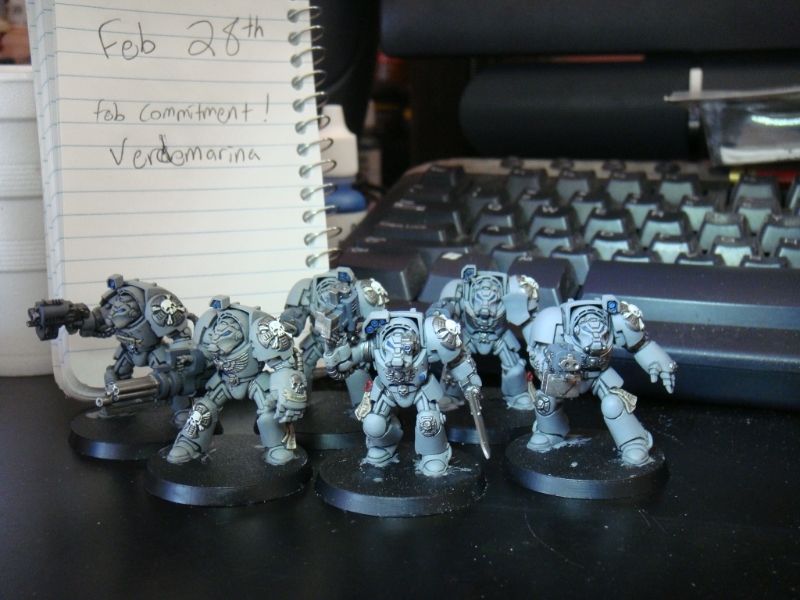 ---
Posts: 5
Joined: Sun Feb 15, 2015 9:47 am
My completed Farseer for my Ulthwe Eldar army! Very proud of how it came out!
---
Posts: 16
Joined: Sun Oct 05, 2014 2:28 pm
A lot of learning going on here. I hope I did ok.
The Sergent with a scared eye!
---
Posts: 41
Joined: Sun Feb 15, 2015 8:17 am
Location: Liverpool, UK
Sisters of Battle Dominion Squad finished at last (it's a really good thing I didn't aim for a 10 woman squad - would never have got them finished in time).
Incidently, this is actually the 1st fully painted squad I've ever finished.... so I'm pretty please with myself right now.
...and a shot with some scenery
Veteran Sister Superior Sonja plus a Dominion Sister with meltagun and another with the squad's Simulacrum Imperialis.
The bases are not quite finished yet, I need to decide if I'm going with black or grey edges and I'm going to add some blobs of snow - but I'll do that when there's a couple more squads ready to go.
---