---
---
Here are my fluff Vect Castigators which will proxy for Grotesques or I'll use as wraithguard when I have Eldar allies. They are WIP.
---
And my two boats. Vects Dais which got nuked and thus it is a Tantalus plus my single Raider. Again WIP. Hopefully they will get finished tomorrow.
---
Oh so close. I didnt see the date and argh!!! Was just going to finish off the two last models tonight...groan..It was really unbelievable that I got so close to finishing off three armies in 6 months. I didnt think it could be done and well, guess I was right. This past month was just too much with work and family matters to be able to get it done. Finally being reunited with my daughter after two years of being stopped from seeing her was much bigger than this comp, no offense. so a win win.
---
On top of being re-united with my daughter after 2 years of her being abducted from me, I took it upon myself to reward my brother for all the time he puts in taking care of my handicapped mother in Canada (I live in Japan). I asked him what he would like for his bday present and he wished he could get back into 40k but just did not have the time with taking care of our mom and working a full-time job. so, with three armies for this contest already just started six months into the comp, I threw down the gauntlet and bought my brother a whole tyranid army and started painting it as well. Yep, four armies in six months. I didn't get a lot done on the nids since they only arrived a few months ago. But here it is so far plus some other big nasties in bags. He is very happy to be getting this and it'll be a late x-mas present to be shipped in February. It really is a fraction of what he deserves.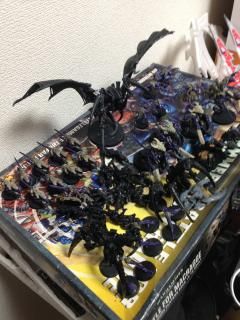 ---