Like clockwork, I get my obligations in at the absolute last minute(9pm on the last day, go me).
This time was Doomrider/miscellaneous Slaaneshi Lord. He came out pretty well: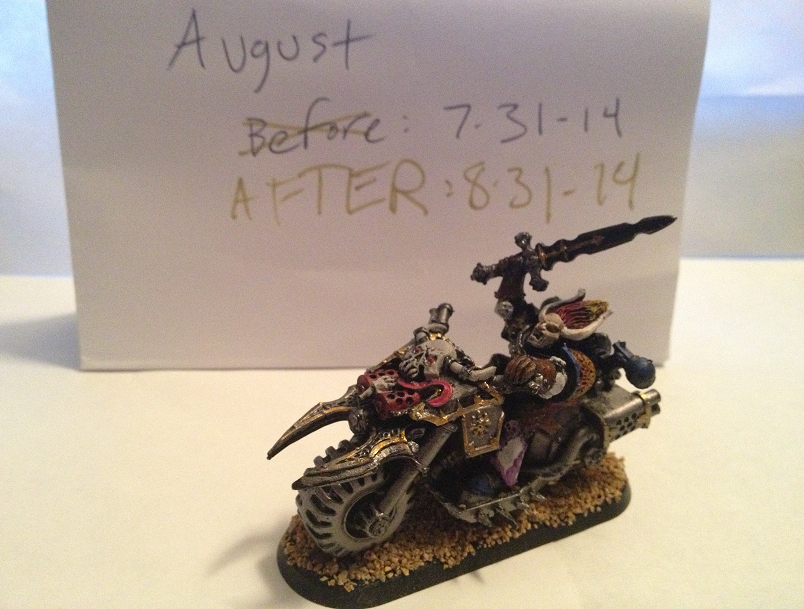 His paints are all over the place- fittingly, I used most of the paints that went into the Noise Marines. I started off simply enough, with Abbadon Black over Imperial Primer. His armor is Genestealer Purple over Pallid Wych Flesh on the greaves, Ultramarines Blue and Boltgun Metal for feet, Mournfang Brown and Boltgun Metal for the studded leather on his legs and sword-arm, Genestealer Purple and Yriel Yellow for the sword-arm's pauldron, Boltgun Metal and Shining Gold for his chestplate, and Blazing Orange , Yriel Yellow, and Genestealer Purple for his screaming-faces pauldron.
His face and horns are Pallid Wych Flesh, with an Agrax Earthshade ink over the face to give him a face. The hairfire is Khorne Red and Yriel Yellow. The sword is Abbadon Black, Shining Gold, and Boltgun Metal. His sidearm(unfortunately not pictured) is Shining Gold and Fenrisian Grey. His replacement backpack is Ultras Blue with a Boltgun Metal drybrush.
The bike is mostly Boltgun Metal and Shining Metal for trim. The flamer/melta-looking gun on the front is Khorne Red. The engine block got a dab of Agrax Earthshade. His seat is done in Dwarf Flesh. The bike's skullface is done in Dheneb Stone, with Pallid Wych Flesh and Khorne Red for the eyes and Pink Horror for the tongue. Also, I didn't realize at first that it was a crazy stoner-skull. Check it out: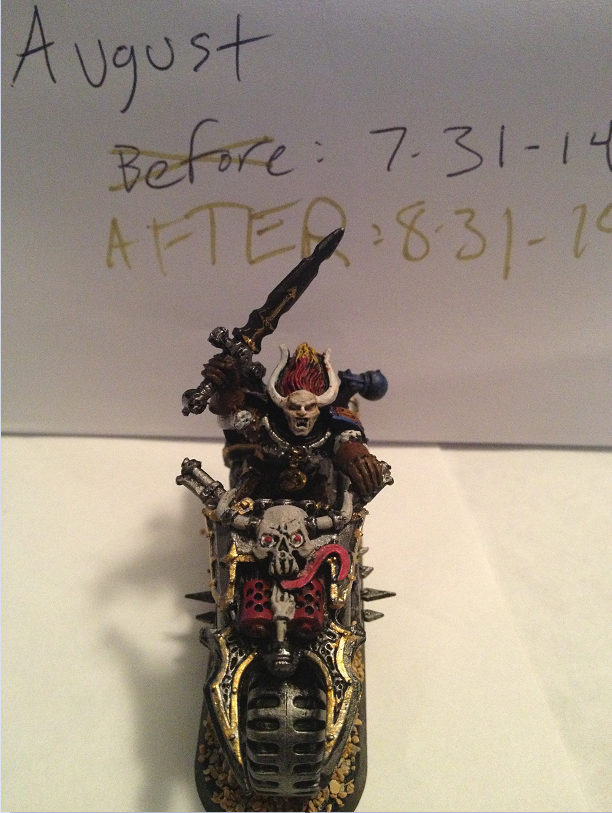 Crazy stuff.
Overall, this model was pretty fun to paint. There's a lot of detail and it never really repeats itself. the skull's chin is one of those things that pops out at you as you wonder what you're going to do with that strange pointy bit between the melta nozzles. Let's hope Doomrider shows back up so we can get a rerelease, or at least a better excuse to run him.
Anyway, on to September!
On a whim, I picked up a Slaughterbrute model a while ago. The Defiler legs I painted up as a Maulerfiend last year are showing some real worrying cracks, and I want a Mauler that will fit properly on a base. The Slaughterbrute is the perfect size, and it's an awesome model I promised myself I'd get to do something with. However, once I'd put it together I realized that it's a very fleshy proxy model for what is supposed to be a walker. After a little brainstorming, I wondered if I could pull off making the 'Brute body look like an outer shell being meat-puppeted by a machine mounted inside the body cavity.
So of course I gave it TVs for a face.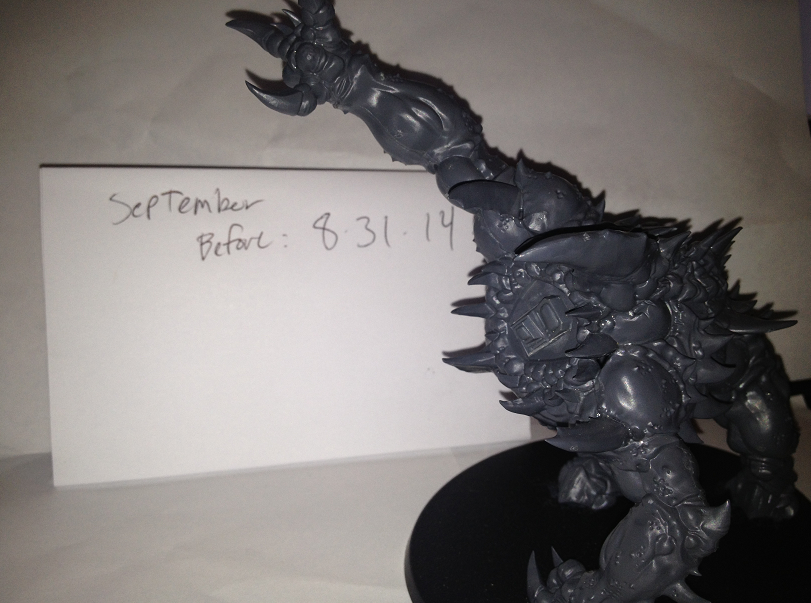 I've got the 'Fiend kit's Lasher Tendrils kicking about still, so I'm gonna fill out the stump-hole with those and some other doodads. Besides that, I'm going to see if I can get some metal stuff emerging from the Brute-Fiend's body to sell the skin-suit idea.