Minor update:
Part of the unit doggies glued and based: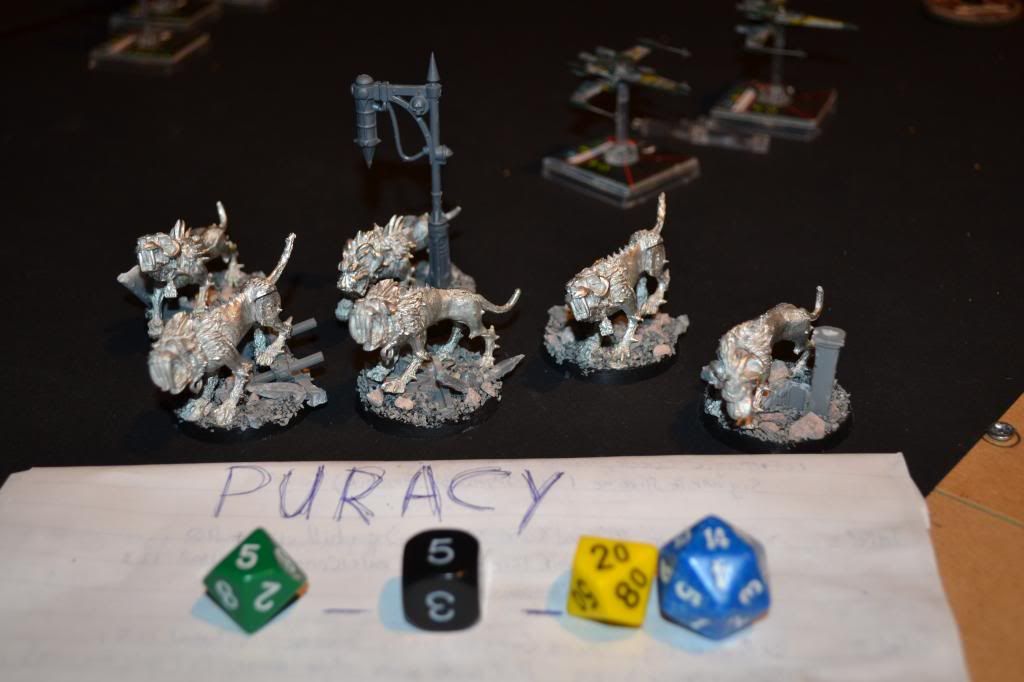 ---
Posts: 441
Joined: Mon Jul 25, 2011 8:28 am
Location: Sunnyvale, CA
Contact:
Nice looking bases. Looking forward to your next update
---
that update will be soon, very soon
I´ve making some more bases and the start of the allied detachment ( CSM ). I really like be´lakor as a model and his rules, but i don´t like him as my warlord, so he can boss around cultists and other non deamons.
---
Damn, this one is a bit to close this month. And that is by just painting the unit for the 1000pts zone list, not the extra models. So here we have for this month: 8 painted fleshhounds.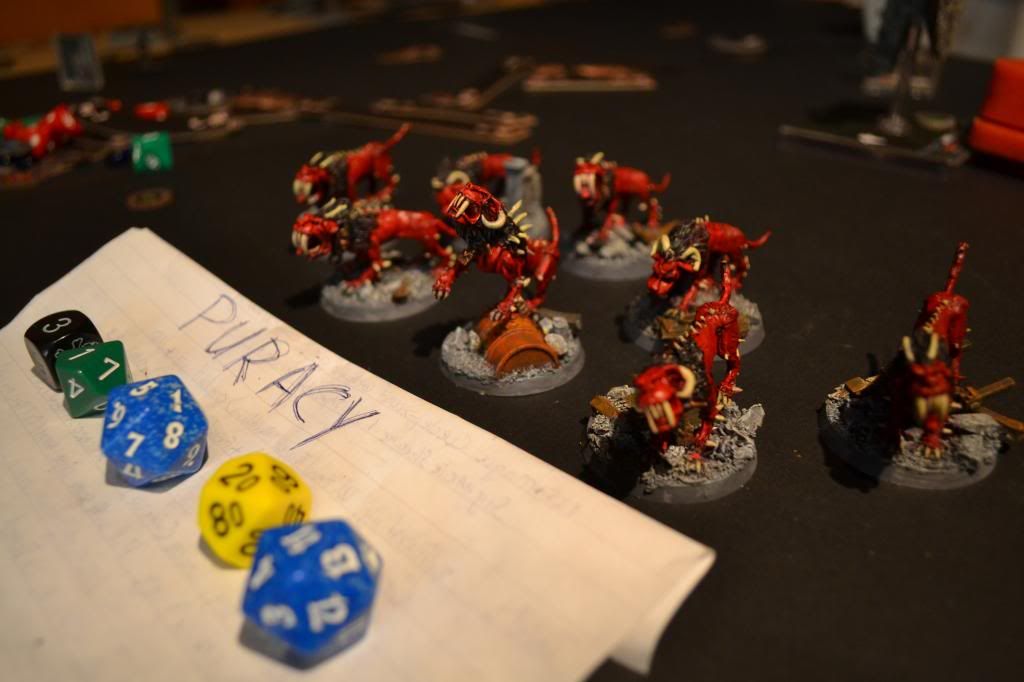 These 6 will be getting their full treatment in june, but i´m not going te rush them just for a picture.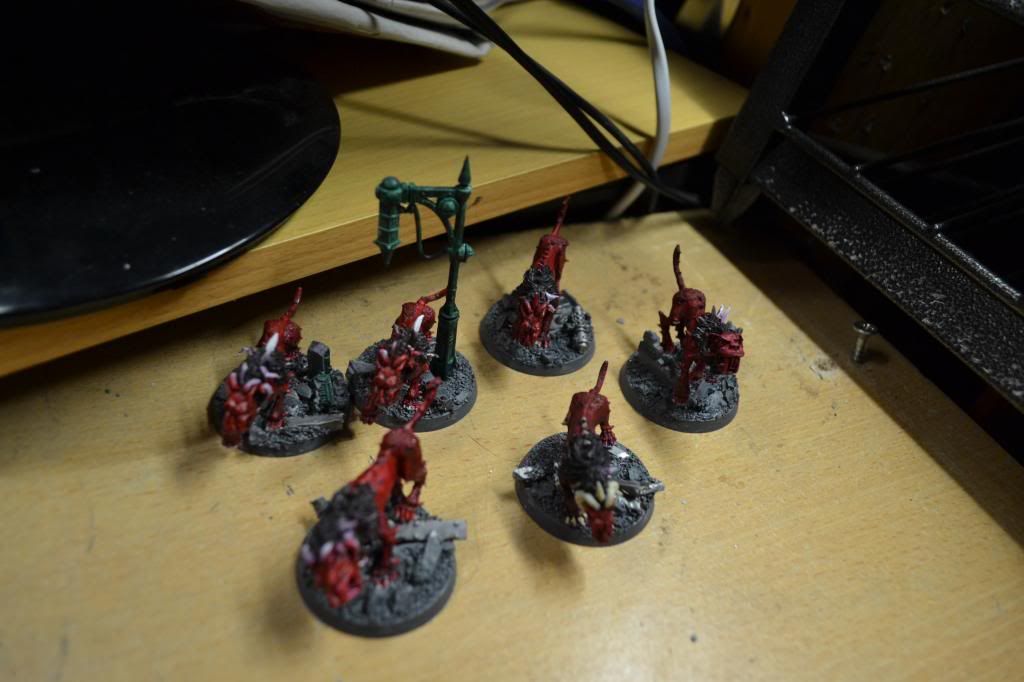 So that leave us with the real unit vor June:
And because i can: The full 1000pts zone mortalis defender list in action. ( with 5 extra deamonettes for warpstorm summoning )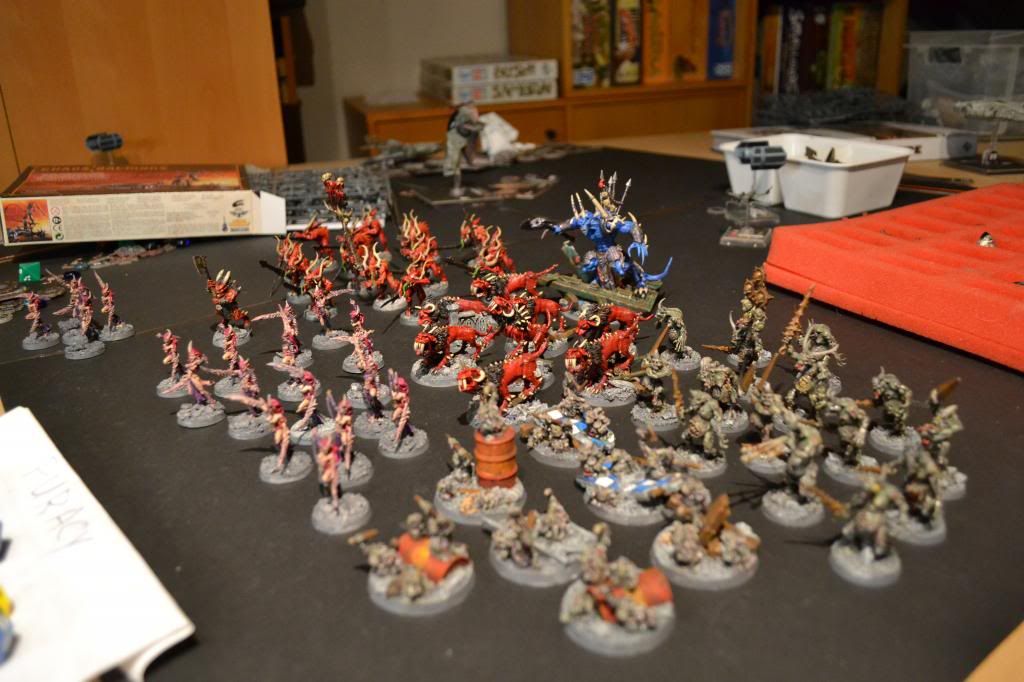 ---
Posts: 441
Joined: Mon Jul 25, 2011 8:28 am
Location: Sunnyvale, CA
Contact:
Nice group shot! It's great to see the whole force together.

Your Flesh Hounds turned out great. Looking forward to seeing how your June commitment goes. Keep up the great work!
---
Right second try to typ this. should know better then try to typ something this long on an mobile device. Most pictures here a a lower quality then usual, because they were made with the formentioned mobile, if i have some time i might update them with better ones
As we can all see the last post way in May. THe month is decided: this is really going well, i might even try painting up a vehicle. ( for those who don´t know, that is the reason i totally failed last years HPC) So i started of a slaanesh hellflayer, not the best rules/points, but i like the look.
To make a long story short: the curse of the vehicle struck again. This was the progress at the end of the month. I even took some quick phone pictures for it and the next month, but never got around to posting it.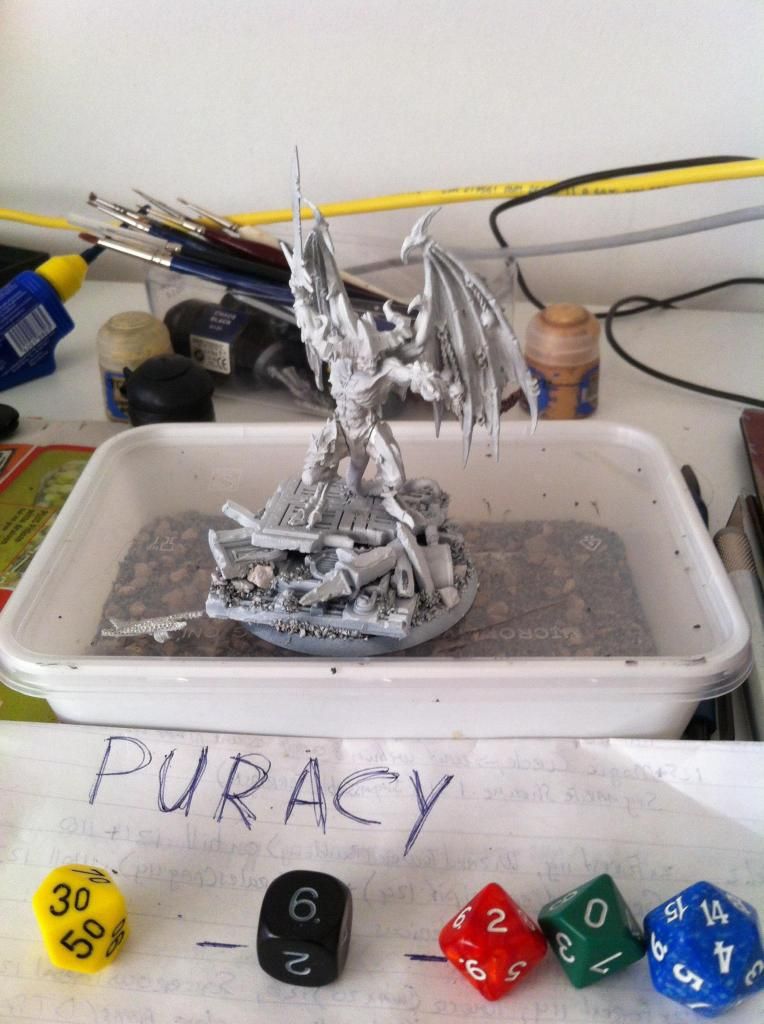 Fast forward to this month. At this point it´s no longer relevant if it´s legal for the HPC, but i simply want to be on the winning side in the battle against grey plastic.
The be´lakor was even finished first, because i simply give up on the hellflayer for that moment. Instead of simply totally breaking down, i just moved on and decided to finish that cursed vehicle when i felt like it.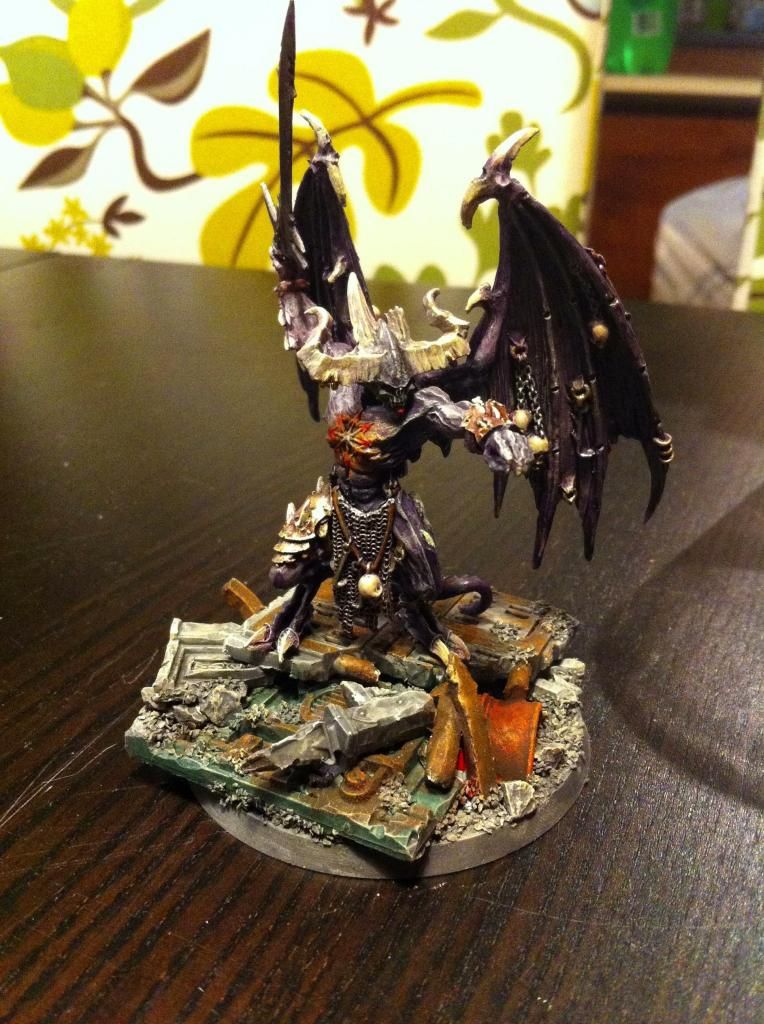 Then we really come to the things i did this month. a unit of 5 spawn from an allied detachment from the chaos marines. (both be´lakor and the deamon prince could be used as HQ for it)
I have some documentation of the making of on the facebook group from the overlords podcast, but posts go really fast there so only an end result picture here. I really tried out some things with the painting, and i am the first to admit some came out better then others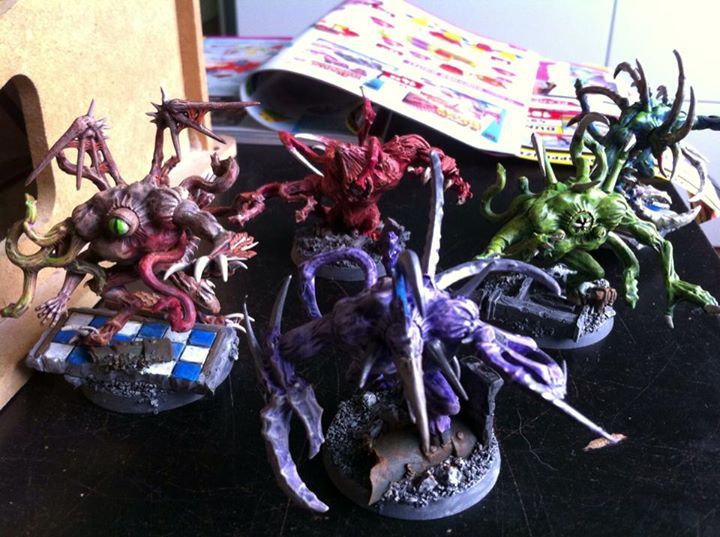 Then a little unit troops, because i want to keep the army bound, so 10 cultists were painted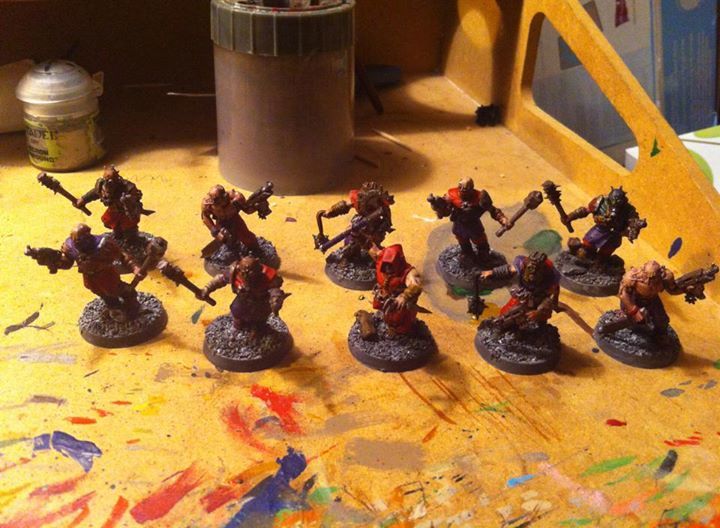 And i finally put myself to finishing the hellflayer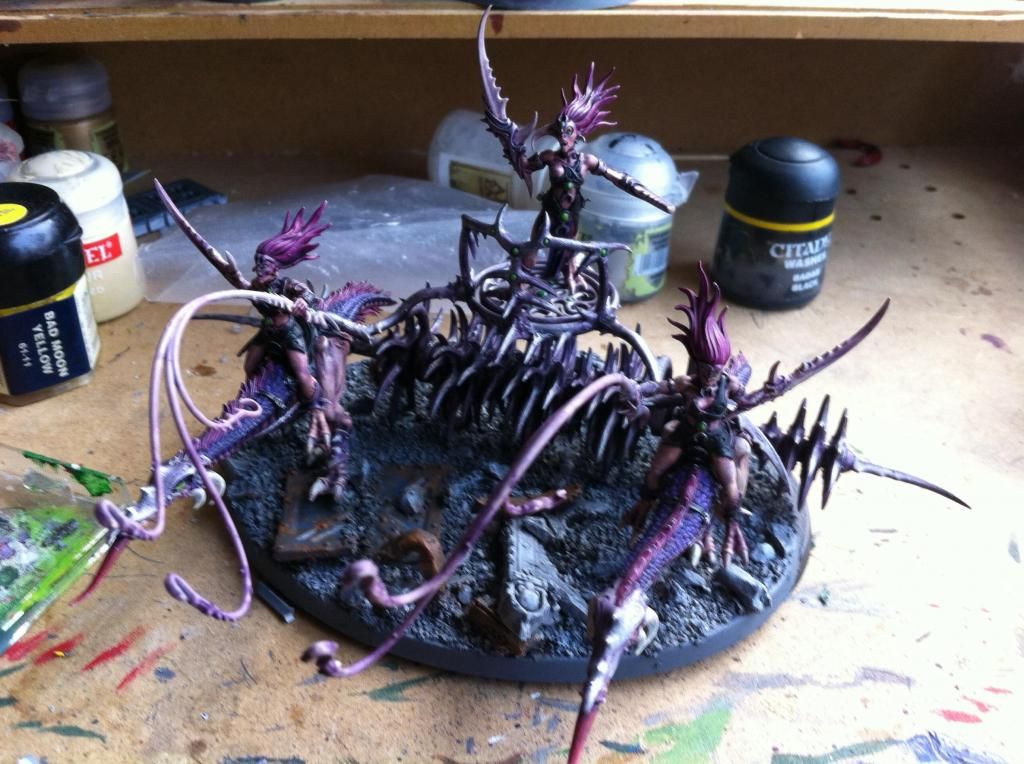 After that my main goal became to get to 2000 points to at least finish the HPC for myself on time. The best way for that was to bring out another big guy. In this case a lord of change. I had this guy painted years ago for fantasy, but time really taken it´s toll on him, so of to the bath he went.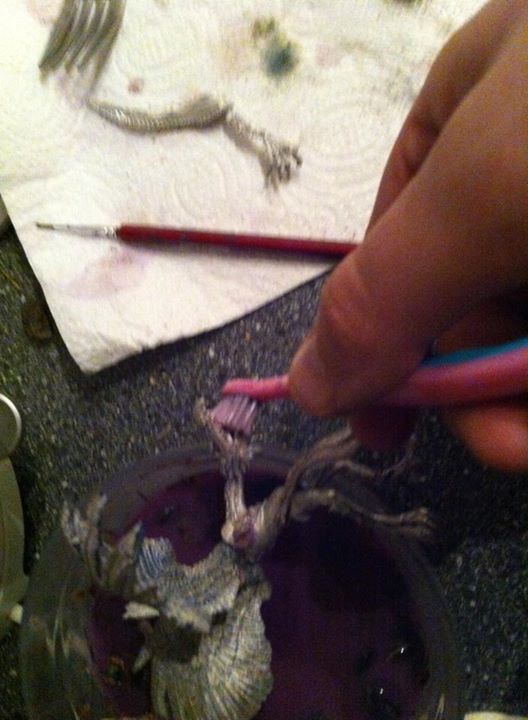 Not the full end result, but close enough. Mostly detailing that had to be done at this stage.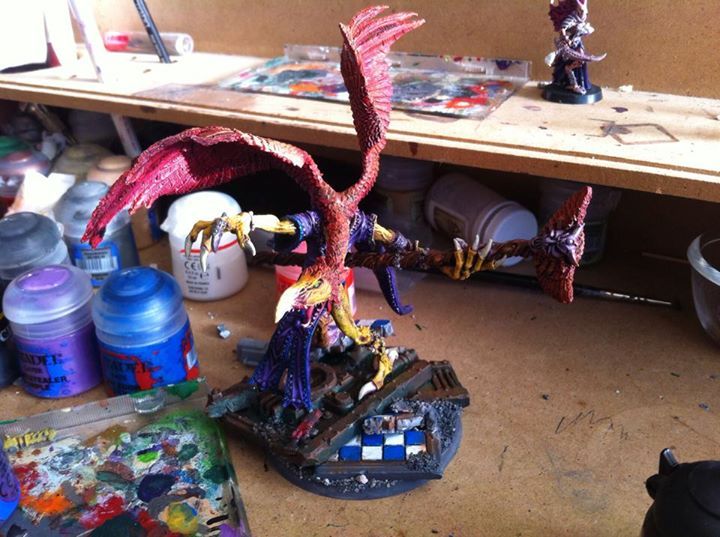 And with that i have 2 combined arms detachments and 1 allied detachment that make up at least 2k worth of army. ( i also finished the remaining fleshhounds that were half painted )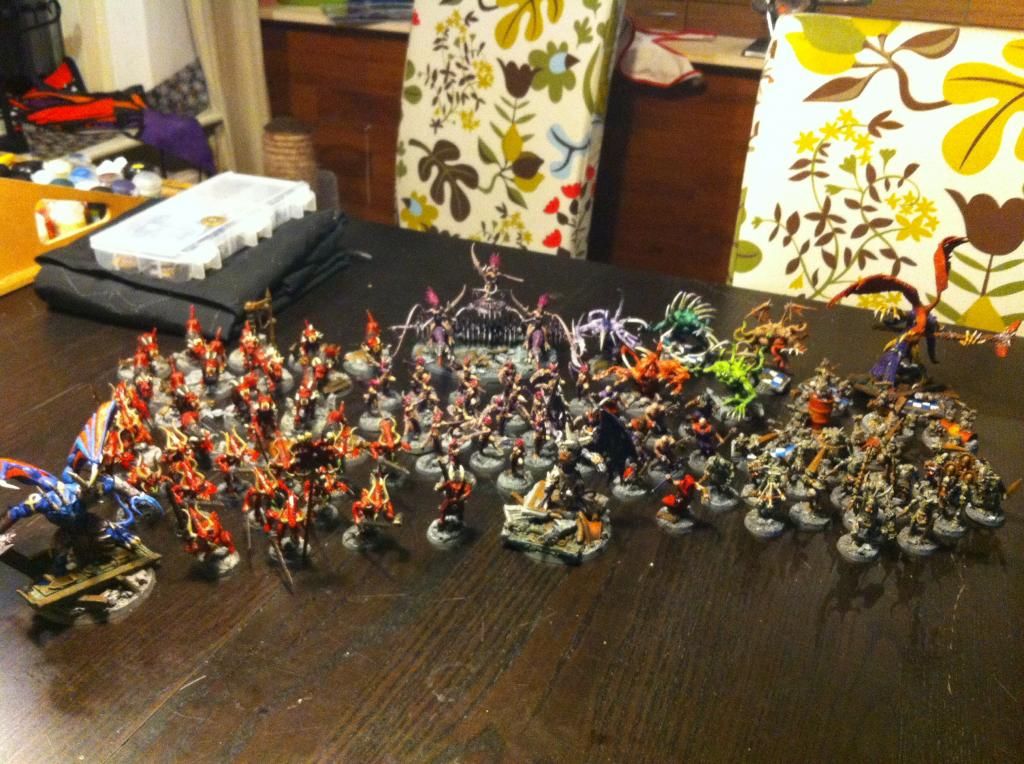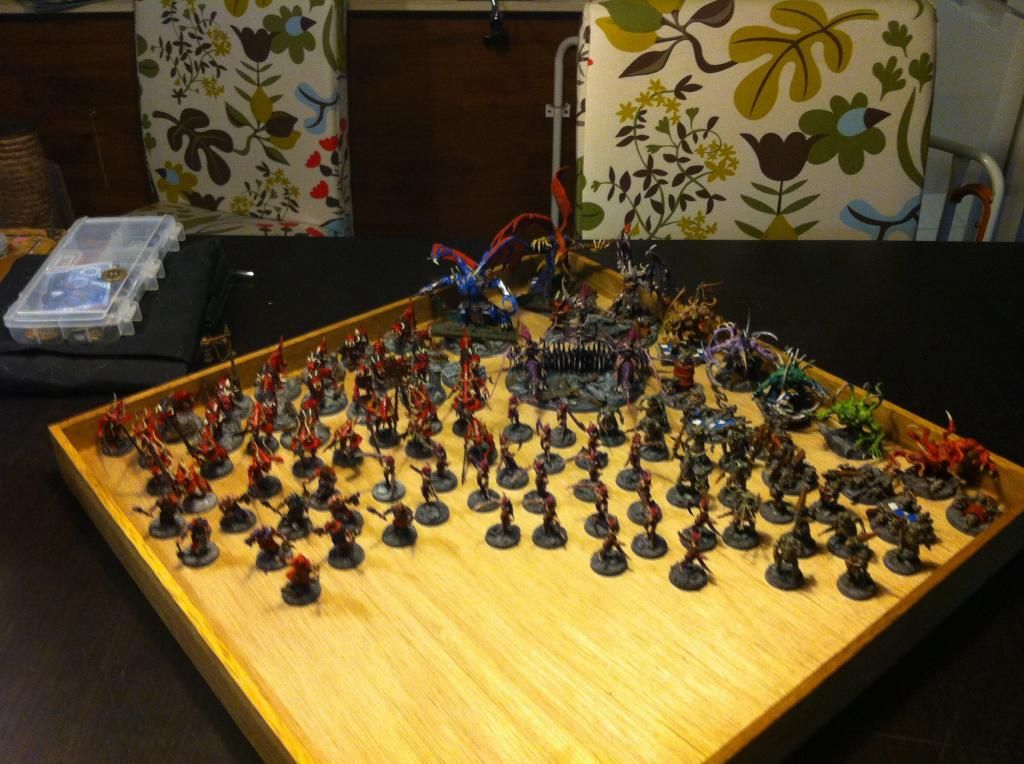 I´m now starting on a unit of screamers for a bit of extra anti-tank power, so this project is far from over. So enough rambling for now, but i now have 2 armies painted thanks to the HPC, before it was zero.
---
Posts: 441
Joined: Mon Jul 25, 2011 8:28 am
Location: Sunnyvale, CA
Contact:
Fantastic work! You really pulled out a lot in the end, very impressive!

I really like how you based your Be'lakor, adding height to the model is fantastic since it's a bit smaller than the new DP kit.

Congrats!
---
You can leave the bit part, he is a lot smaller. The basing give some height, altough that would work better if the deamonprince wasn't based the same way :p
And i'm stil not finished. Never mind the old paint on those, it will dissapear soon enough
---