As I mentioned on the podcast (Episode 13), I did a "motivational challenge" project for 2010 with my pre-heresy Alpha Legion. The idea was to paint & base a different Force Org slot each month to at least table-top standards. The challenge was running on the 40K Radio forums and the 40K Fight Club forums. I thought I would post my army here...
I was reading the BOLS Badab Wars stuff, and it got into some other related reading/surfing, and I was really liking the Alpha Legion stuff and the other stories from the time of the Horus Heresy. For example, One of my Death Watch guys is going to be modified to have a Sons of Horus shoulder pad and the name "Qruze" -- in honor of Iacton Qruze, the lone loyal survivor of the Sons of Horus.
That led to me to the project that I used for this project -- turns out I already had a good portion of the models as "spares" from other projects!
Renegade Alpha Legion
Codex: Space Marine army based on the idea of the Alpha Legion at the time of the Heresy.
They use stealth, trickery, spies and the elite "Effrit" assassin unit led by Omegon, one of the twin Primarchs (Alpharious & Omegon). Even before the Heresy they used people of all walks of life as resources and agents, even killing people to protect the agents' identities. There is source material that they are actually renegade, NOT chaotic. That they made certain decisions based upon contact with an Xenos Cabal that gave them the Vision of what might be. Their "For the Emperor" cry might be based upon that Vision, and may not be the irony that most perceive... Check out the Horus Heresy book "Legion" and the info at:
http://wh40k.lexicanum.com/wiki/Alpha_Legion
I thought about doing CSM, but that's another codex/system to buy and to learn. Also, I'm following the "they might not be all bad" idea, so I stayed with the SM Codex.
I've reviewed the "assassin" & "stealth" themes and think I can represent them with Shrike as "Omegon" and scouts. I am using Cato Sicarius as "Alpharious," to add to the "quick hit" theme. That also works because Cato's abilities don't co-opt the Combat Tactics of the army, so that Shrike can make them all Fleet (which also fits the theme). Khan was a consideration, but I would have to use him with Cato not Shrike which didn't suit me. I could also do Shrike and a regular Captains w/PP&PW for the points, but I *really* like the board-wide leadership 10.
Here's the concept. I proxied some of this in a couple of games before I started. I'm thinking anti-tank (specifically AV14) will be my biggest weakness most of the time:
Alpha Legion at the Brink
HQ:
--Captain Cato Sicarius (Alpharious) with Command Squad kitted out just like Cato (Plasma pistols and Power Weaopns) w/LC/TL-PG Razorback
--Shadow Captain Kayvaan Shrike (Omegon)
Troops:
--Scout Squad (10) (Bolter x2; Camo Cloaks; Sniper Rifle x6; Missile Launcher; Sergeant Telion)
--Scout Squad (10) (Combat Blade x3; Shotgun x1; Bolter x1; Sniper Rifle x3; Missile Launcher/HB); Sergeant (Melta Bombs; Power Weapon)
--Scout Squad (10) (Combat Blade x3; Shotgun x1; Bolter x1; Sniper Rifle x3; Missile Launcher/HB); Sergeant (Melta Bombs; Power Weapon)
--Tactical Squad (10) (Flamer/Missile Launcher/Power Weapon, melta bombs); Razorback, LC/TL-PG
--Tactical Squad (10) (Flamer/Missile Launcher/Power Fist); Rhino
--<Cato's Outflank Unit> Tactical Squad (10) (Meltagun/Multi-Melta/Power Weapon, melta bombs); Rhino
Fast Attack:
--Assault Squad (10) (Plasma Pistol x2, Sgt w/Twin Lightning Claws - just like Shrike)
--Land Speeder Storm (Heavy Flamer)
--Land Speeder Storm (Heavy Flamer)
Elite:
--Dreadnought MM/CCW(HF) w/Drop Pod
--Dreadnought MM/CCW(HF) w/Drop Pod
--Assault Terminators (LC & TH/SS) w/Land Raider Redeemer
Heavy Support:
--Thunderfire Cannon
--Whirlwind
--Whirliwind
Obejctive Markers (current plan, a Hydra -- the symbol used on their agents and what the chapter symbol becomes after the Heresy)
I decided to combine squads so that by the end of the year the vast majority of the army is done (all clickable thumbnails):
The basic color scheme: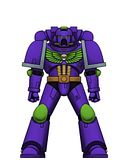 The army as of 11-5-10: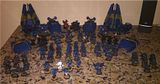 Jan - Shrike - "Omegon" (DONE)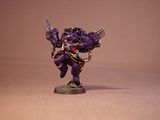 Feb - "Telion" 10 man scout squad PLUS all of the other snipers, bolters and heavy weapons scouts from the two other close-combat Storm-riders. (Done)

March - Both dreads and both drop pods (DONE)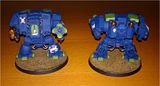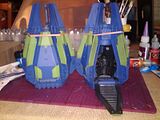 April - Both Storms (DONE)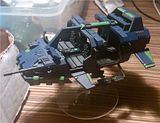 May - Thunderfire Cannon (DONE)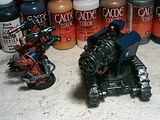 June - Cato Sicarius - "Alpharius" and his command squad. (DONE)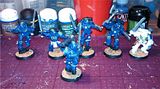 July - Tac squad PLUS the other two in the list (30 dudes), PLUS the Rhino and both Razorbacks. (Infantry DONE, transports not yet)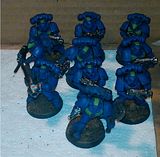 August - 10 Assault Termies & LR Redeemer (5 Termies DONE, transport not)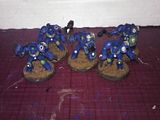 September - Assault Squad (6 DONE)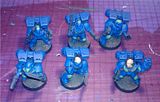 October - Both Whirlwinds (DONE)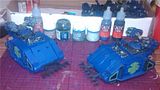 November - The Close Combat scouts from the two Storm-riding squads (WIP - Photo as of 11/14 includes other members of are being completed)

December - 5 Objective markers... (The Warmaster Dark Elf Hydra looks great for this, but it's pricey)