In the last few 40k games I've played, woods have been on the table and in the last one they turned into a pretty crucial element (a relic game, with a wood right in the middle). I only own one piece of wooded terrain at the moment, a Citadel wood kit, but after that last game I got to thinking about my 2nd edition-era table, which had enough woods to cover a whole table quarter. They were simply made from Woodland Scenics trees glued to hardboard bases, and weren't anything really spectacular, but they got the job done and were lots of fun to play with.
After lots of nostalgia-ing, I decided that I want more trees on my table, dammit! I don't want more of the Citadel woods either, because as much as I like the look of the kit, all of the trees tend to look the same, and pulling the mold lines off those branches is a whole world of painful frustration that I really don't care to experience again. I also want something way cooler than just Woodland Scenics, as I know I'm capable of way more than that (nothing against using those, of course).
I found myself deciding to scratchbuild some woods. Much like most of my projects though, I had to go straight to 120MPH with it, and decided that if I was going to build any woods at all, I might as well just build a whole table's worth of them. I figured that I'd ultimately want them all fairly consistent, and since I have a 12'x6' table (which still needs a proper playing surface...) and like to play Apoc games occasionally, I don't want to find myself in a situation where I'm
short
on wooded terrain, once I have it. Yeah, I'm pretty dumb sometimes.
To begin this whole deal, I grabbed up a bunch of hardboard bases that I had spare from an older project and toyed with arrangements on my table space to figure out just how many bases I'd need to use. Here they are:
As the pic shows, the bases cover a whole table half very densely, but they spread out over the whole table area pretty nicely and produce what looks like would be a playable setup. From there, I needed to figure out how I would affix trees to the bases and I wanted them to be swappable, much like how the Citadel kit works. Since I didn't want to bother with drilling board or involving any more real wood in the project, I went with some 1/2" insulation foam, sculpted down to very low, thin hill-ish shapes, making sure that my models would be able to actually stand on sloped bits.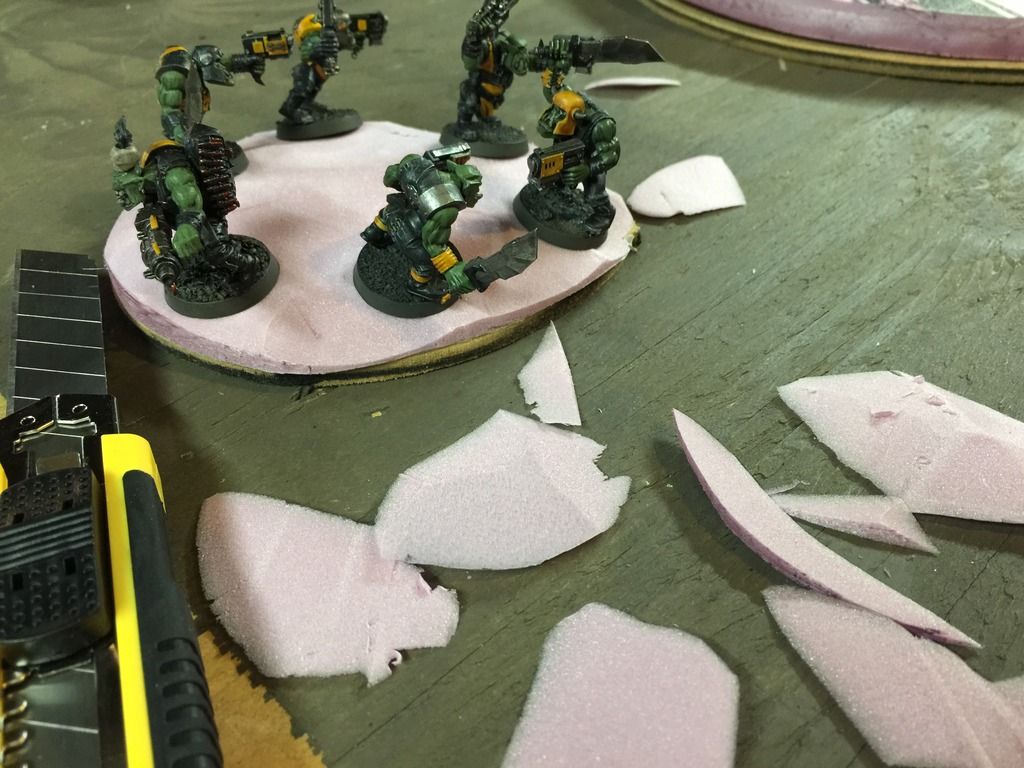 From there, I used an appropriately (I guess...) sized paint can lid to mark out a bunch of discs for tree bases and cut them out using a hot knife foam cutter (sure handy for this sort of stuff!).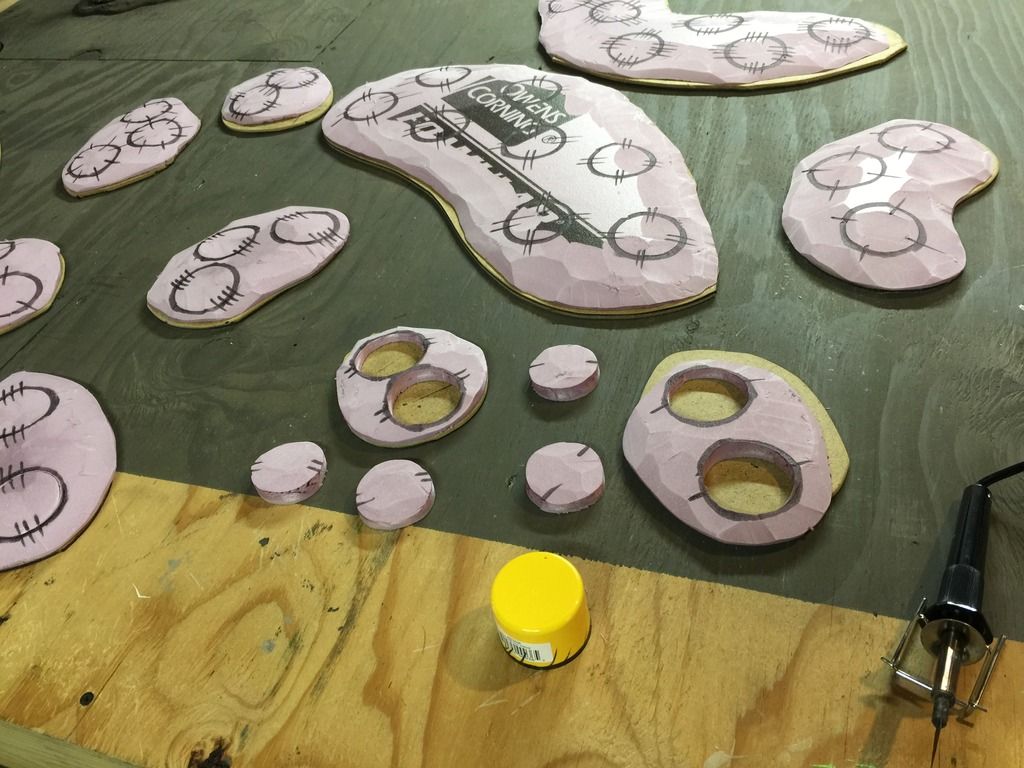 I still only had a half-conceived plan for making the actual trees though, which revolved around an article from a WD of ages past that I kind of vaguely remember, and which I'm sure I have tucked away in a bin somewhere but don't really want to bother to try to dig up. The gist of it all, I think, was to make wire armatures for your trees, then cover them in a sort of paper mache/guaze mixture to texture them up. So, that's the plan that I'm running with, whether it ends up working or not (I'll make it work one way or another though, lol).
I want some large, gnarly, grim-darky trees though, and I want them to be all barren and dead looking (screw foliage!). I decided that I'd design the bodies kind of like twisted teepees, with the wire acting sort of like tent poles and the paper mache draped over them like the tent skin, which, in theory, should allow me to make some bulky tree trunks with a minimal amount of wire innards. I also keep the arms to a minimum so as to get the point across that they're trees without becoming way too much work to deal with. I have to do 41 of these things to fill out all of the bases, so If things got way too complicated I'm likely lose momentum at some point and that's not good at all.
In fashioning the armatures, I went with a simple three-wire (I'm using cheap steel wire here) design to start them all off with, and just went about doing half of them in that manner. I had to play with a few different ideas to figure out how to get it all to work right, but I think that the best way to go now is to cut three different lengths of a heavy gauge wire, 16 seems to work well, and tie them together about mid-way through with a very light gauge wire, like a 22 or so.
From there, I flare out and bend the bottom half into what I want the trunk to look like and stick it into the foam base, securing with beads of hot glue. The top ends of the wire get twisted out into branchy shapes. Once done with the basic shape, I go back in with more wire of varying thickness and flesh things out more. In the pic below, I have the basic trees on the right, and the finished ones on the left.
Looks like a giant, eye-poking mess! At this point, I have a full twenty of the armatures done though, and putting them all onto their bases, they make a bit more sense.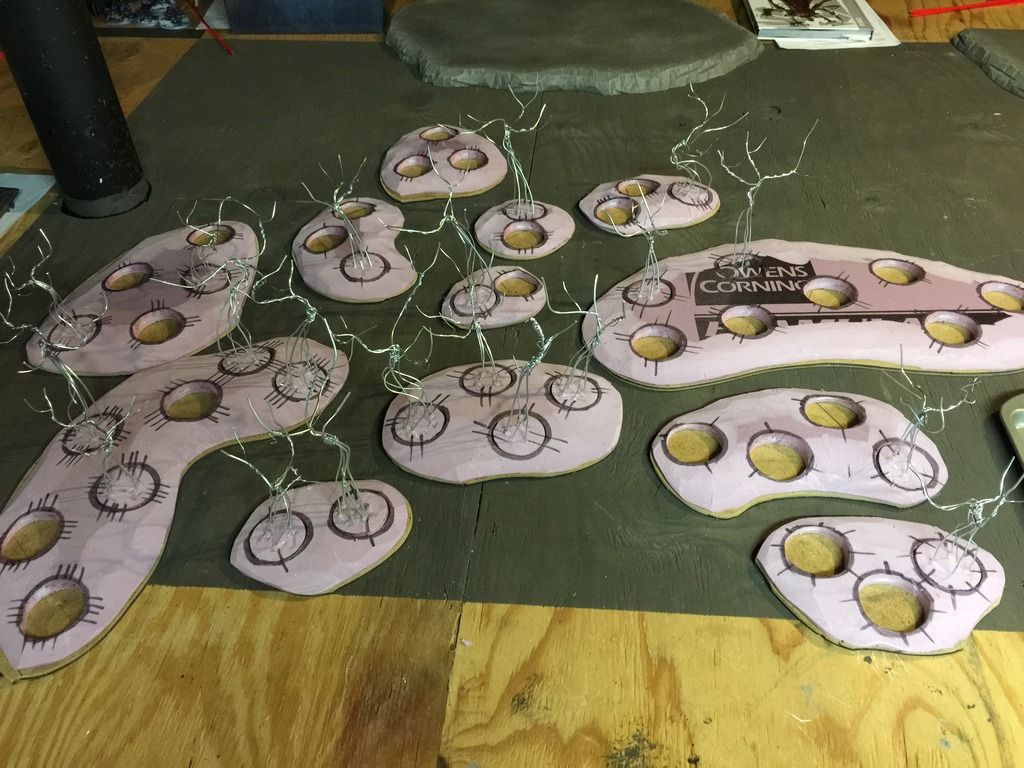 Now that I have half of the armatures done, I'm debating whether I should stop and do the paper mache on those, or just do the rest of the armatures. I haven't done paper mache since grade school, and that was eons ago, so I'm pretty anxious to just jump into that and give it a go. However, I think I have the hang of the whole wire-bending business at this point so just finishing all of that should be pretty easy, so maybe I'll do that first.
Anyway, I still have plenty of work to do here, and I still have my HPC commitment to do for the month (maybe these woods can be my painting commitment for next month...). This is kind of one of those spiraling-out-of-control-hobby-ADD things though, and I'm hoping to ride it to the end quickly, so I can get back on track with everything I have going on.